NewsLetter Automotive & Transporation n°2,
June
2015.
NEXYAD Automotive & Transportation
more an more involved in Road Safety
Nexyad has developed SafetyNex a functional block (software), today the only onboard system in the world for safety driving measurement (risky driving level/safe driving level). We are currently integrating this product with Ecogyzer from Nomadic Solutions which is an eco driving rating system, to provide THE ultimate « responsible driving rating system ». This whole system will be onboard as an electronic device and also as a smartphone App. Nexyad's Target is automotive market and automotive insurance market, plus fleet management (new vehicles and after-market). If you want more information, please contact : sales@nexyad.net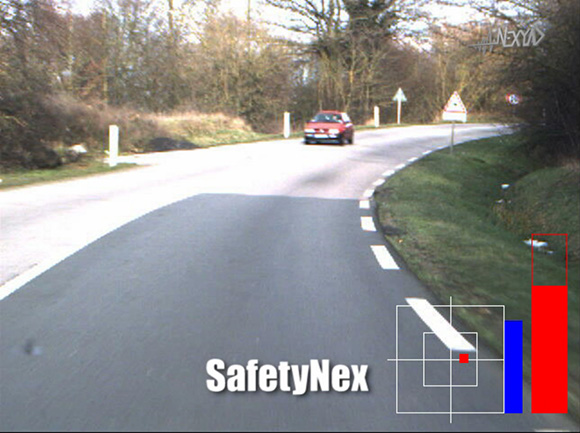 NEXYAD Automotive & Transportation presented ObstaNex at the SafetyWeek in Aschaffenburg, Germany.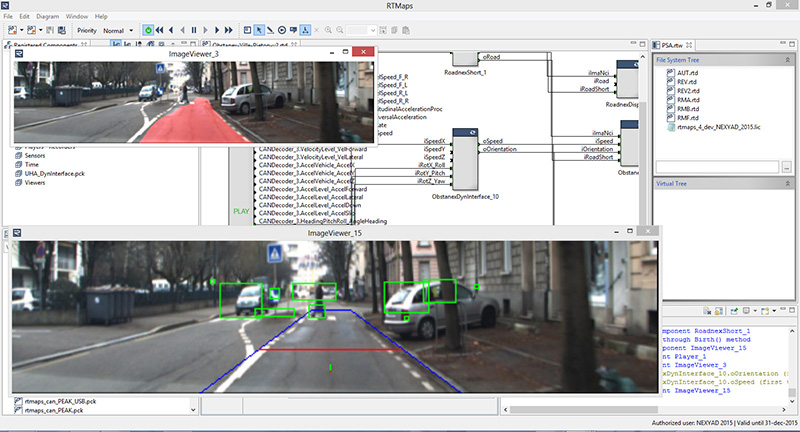 ObstaNex is a functional block (software) for ADAS (Advance Driver Assistance Systems), Autonomous vehicle,… With a single 2D camera and an IMU, ObstaNex detects obstacles on the road in the front of vehicle; it can also detects objects on the sides or above the road. ObstaNex shows impacts in square frames of anything recognized as obstacles. Next version developing at the moment will track the recognized obstacles.
This module runs as a component of the framework RT-MAPS by INTEMPORA.
As you can see on the following demo, ObstaNex is a low level module: no false detection filtering, no tracking (we show robustness of the very low detection level).
NEXYAD at the SAFETY WEEK symposium in Germany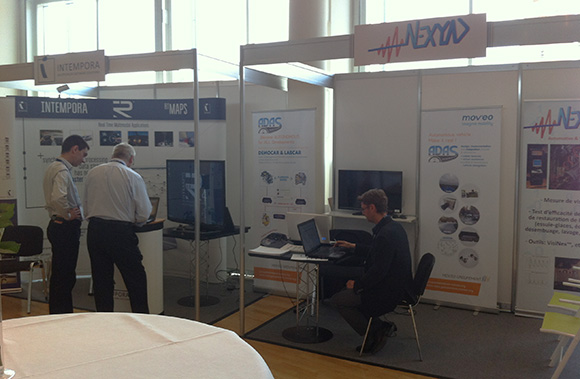 Nexyad Booth 33 in the SafetyWeek next to the Intempora guys.
NEXYAD has received a lot of visitors on its booth at the SafetyWeek expo from the 19th to the 21th of may. Of course, it was an opportunity to show our innovative products for ADAS : RoadNex V2.0 the road detection module, ObstaNex V2.0 the obstacles detection module , SafetyNex the measurement module of safety for drivers, Visinex Onboard the measurement module of visibility for drivers, or Visinex Lab the rain machine for wipers testing and visibility testing (mist, fog, etc...)
We also visited other very exciting companies that cover many fields of active and passive safety for cars, trucks and pedestrians.
INTEMPORA from the cluster ADAS, member of Mo'veo, business partner of NEXYAD, developed multisensor software solutions as RT-Maps 4 its asynchronous high performance platform for real time applications, and I-DEEP that automates validation runs for ADAS.
MOBILEYE, the leader in collision avoidance systems, aims for after-market developing a smartphone app to warn drivers about different risks, and fits large goods vehicles with Mobileye Shield + for trial in London.
AICON 3D Systems GmbH proposes different scan systems for measurement ; parts inspection, parts quality control, vehicles and dummies crash tests, and 3D digitalization for modeling, printing, rapid prototyping and reverse engineering.
With ATLATEC, it is possible to connect the Atlabox in any vehicle which automatically creates high precision 3D maps of centimeter accuracy. More you drive more you feed the box with large amounts of reference data (used for ADAS performance measurement).
AMS GmbH provides software suite; jBEAM for data acquisition, analysis visualization and report generation, and MaDam a web oriented measurement data management system allowing a group of users to search all the test data including different metadata.
CMORE Automotive GmbH with his Podbox offers individual measurement solutions for the prototyping of algorithms, both in vehicle and in the laboratory, and CMORE Framework for ADAS.
ENCOPIM is a spanish company based in Barcelona, leader in development, manufacturing, installation and commissioning of turnkey testing equipment, for instance in passive safety : crash-test machines.
4Active Systems GmbH provides : mobile testing system for active safety (a dummy that runs to test braking, collision,…), articulated pedestrian dummy, bicyclist static dummy, adult an child pedestrian dummies.
SEATTLE SAFETY proposes the Dynamic Pitch Simulator, an economical add-on accessory to sled test systems with proven repeatable trajectory.
CIVITEC offers a unique approach that combines environment and sensors models to produce thousands of qualified and reproducible data for algorithms.
B-Plus GmbH is a 100 people company which provides a broad portfolio of engineering services, measurement and diagnostic tools and software to automotive manufacturers and suppliers.
The Fraunhofer IDMT has show their cool tools : a Micro-Sleep Alerter that prevents drivers from dozing off at the wheel, and a Calibration-Free Eyetracker for 3D monitoring of a person's line of gaze.
TASS International delivers complete solutions for ADAS driving simulators as well as integration services to existing simulation models and legacy driving simulator, their product PreScan provides a physics-based simulation platform to prototype, test and validate new advance driver assistance systems.
IMAR Navigation GmbH builds iTraceRT-F400-E and iTraceRT-M200-SDN, two compact INS/GNSS deeply coupled inertial navigation, measurement, surveying and control system for application on the surface and in the air.
Nexyad Tribute :
During this symposium, NEXYAD and INTEMPORA presented a paper at the conference : "Validation of Advanced Driver Assistance Systems : methodology and tools". This paper deals with the methodology "AGENDA", published in the 90's (for specification of learning data base and testing data base of artificial neural networks – based systems) that already cope with systems validation from data bases, and it also presents some new tools (RT-MAPS, I-DEEP), that allow to easily automate testing process.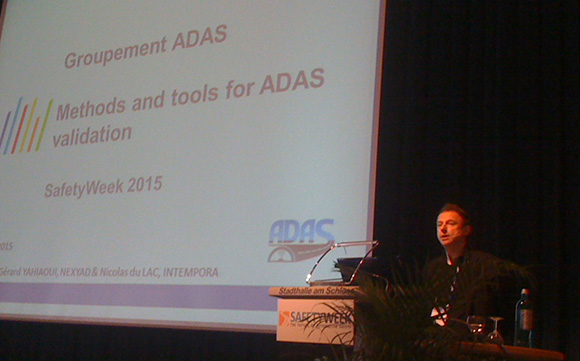 Gérard Yahiaoui speaking at the conference in SafetyWeek, Germany.
Many thanks to CARHS the expo organisation (this symposium let us meet a lot of business and partnership opportunities), and to Mo'veo that supports the SMEs of the Groupement ADAS (including NEXYAD).
Link to the previous NEXYAD Automotive & Transportation Newsletter (focused on road detection without using markings) : http://www.nexyad.net/news/Newsletter_Automotive_april_2015-02.html
NEXYAD is a High-Tech SME member of the science and innovation French cluster Mo'veo (http://pole-moveo.org/en/)

NEXYAD is member of the "Groupement ADAS" (http://groupementadas.canalblog.com/ )
To read more, go the NEXYAD Automotive & Transportation page : http://nexyad.net/Automotive-Transportation/

RoadNex V2.0 is available in the real time framework RT-MAPS and will soon available in smart phones (Android, IOS, Windows phone).
RoadNex V2.0 may be cross compilated into your special hardware architecture.

French Ministry of Research approved NEXYAD with CIR Label, again, for years 2015,2016 and 2017.
Please feel free to ask questions : sales@nexyad.net
Nexyad

is located 95 rue Péreire 78100 St Germain en Laye, France - Phone +33 (0)1 39 04 13 60